How to Blog With Limited Internet Access
3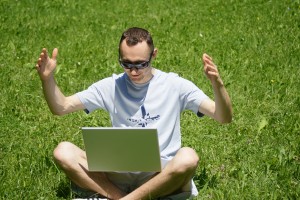 So what do you do when you are a lone blogger and suddenly you are no longer able to get full access to the Internet. This could happen for a number of reasons, perhaps you get sick and have to go into hospital, or you get called away to somewhere with little or no Internet access. The problem is that if you are engaging with an audience that is used to you producing a post on a fairly regular basis and then suddenly you stop delivering, they are only going to check back so many times before they start looking elsewhere for their information.
The potential is that you lose them as a visitor to your blog permanently. Obviously if you are producing good content and you have sufficient material in place then you should and probably will maintain a level of traffic even if you haven't posted for a while. But to continue building traffic and bringing visitors, you do need to continue adding good quality content. Clearly if you are the sole source of your content then being taken out of the loop makes continuity a bit tricky to say the least. So what contingency options are available to you should you encounter the problem described. Maby you need to become a 3rd party blogger for a while!
Here are a few suggestions how:
Find a blogging buddy
Research and identify high quality articles written by a 3rd party
Research and identify high quality videos by a 3rd party
Research and identify Private Label Rights articles
Invite guest writers to post on your blog
Prepare blog posts for scheduled future release
All these suggestions are alternative options for how to blog when you are absent that involves using content produced by someone else, the last one being the exception, . There is nothing wrong with this providing the content is relevant to your blog topic and the content quality is at least as good as you would expect to provide yourself if you had written the material.
How to blog when you are absent boils down to preparing and planning for the unexpected so that you can continue to provide quality posts when you have limited access or, in a worst case scenario, no Internet access at all. For the latter you would need to ask your blogging buddy to post on your behalf. Admittedly this is not rocket science but if like me you thought you were invincible, then you can easily get caught out. A lesson I recently learned the hard way.
If you know of other ways of generating and posting content when you encounter similar circumstances then please feel free to share your thoughts in the comments. Provided that is you are not going to say use article spinning or automatic posting from free content sites that get posted without a review to check the quality of the content, because that approach is a sure fired way to drive all your hard earned traffic away.
3rd Party Content Sources