How to promote your blog
5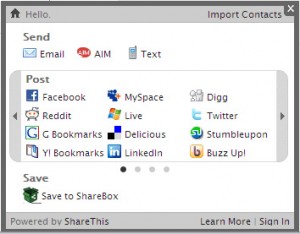 Regardless of the reasons for which you have created a blog, it can only become a success if you know how to promote it: in other words, you have to attract traffic.
There are several ways to do this, depending on what your objective is for your blog.
First of all, you need to take a look at the web generally and see what the competition is like in your chosen niche.
Blogging is something you have to learn and improve on as you acquire more experience; actually it could be said that there are no boundaries with respect to the possibility to promote something online.
With respect to page rank, the best help you can get is by gaining friendly links from domains related to yours i.e. have content that is relevant to your content. You have to ensure that these links are gained in a way that looks natural and organic from the search engine perspective, so that you don't get penalized by the likes of Google for trying to manipulate search results. This can be a little tricky, but if you believe Google the best way to achieve this is through creating excellent content that other sites feel compelled to reference, provided it is on topic of course.
Once you've published your post it is a good idea to try and get links to your blog posted on other sites, the easiest way to do this is to do the same, in exchange, to help others by providing them with a link, as long as you don't over do it. Nevertheless, it is also good to mention that you must pay attention to the web page quality to make sure that you don't promote something that contradicts your principles or could be detrimental to your website.
Besides this, you can use all sorts of blog directories where you may submit your pages so that you make them more easily accessible. Generally such sites require a description of your blog, and it is here that you need to show your skills paying attention to the wording so that it includes in a natural way the keywords you are focusing on for your niche.
You have to describe the blog as clearly as possible, try to focus on the general topic and aim of the blog. The title you use will be part of a category that you must select very carefully, so that it reflects your intention completely and is viewed by Google as the main indicator for your blog topic. This introductory part should not be too long, though you'll have to include some descriptive details and as previously stated one or two high-in-demand keywords. If you manage to do these descriptions correctly, then you can expect to gradually build traffic to the blog.
When you are new in the blogging world, you have to let people know that you're available with great subjects, pictures, articles, products and anything else specific to your field. The best way to spread the news about your blog is to utilize all the online resources available. You can engage on social media sites, write press releases and submit them to free directories, participate in forums and so on. All these methods will help promote your blog and, if in conjunction with these methods, you can find a way to attract links from a few very high quality websites or blogs, then you will be pretty assured of improving your page rank and authority.
Related Articles