Keywords in a Domain Name or URL
8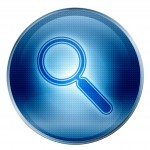 This article discusses where search engines look first for the keywords that identify what a URL or individual page is about i.e. the content within the page. Note I said URL not website, this is because each individual page is assessed for its content not the whole site as one entity or just the site's home page.
It follows then that, when you choose a domain name for your site, including a primary keyword is a good idea if you are interested in SEO results. Likewise when you create additional pages for your website or posts for your blog, think about what the page/post is about and of course which keywords you are targeting for the page. The name you give to the file, be it an html, php or some other format, forms a portion of the URL for the page and as such it is a good place to include a relevant keyword. The keywords in a domain name are not restricted to your registered domain name, they can also be introduced through your page or post naming convention.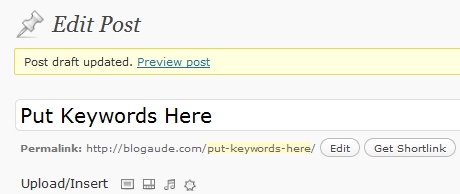 Following up on that point, each individual blog post you make contributes to your  URL and (with WordPress) you can edit the URL to be what you want.
Very easy to forget this, I do all the time, the URL gets created automatically and basically takes on the full title of your post providing you have things set up that way (see below). But when you are in the edit screen there is a little 'Edit' button or an option to 'Get Shortlink' if you prefer, the latter is providing you haven't already edited the automatically produced version. So putting keywords in your domain name, page and post URL's will help your SEO efforts, and if you don't believe me, you can watch what Matt Cutts of Google corporation has to say about it.
Keywords in a Domain Name According to Google
By the way if you do forget to optimise your file name or post URL's it doesn't mean you can't go back and change them later. Obviously the sooner you do it the better, because you don't know who's bookmarking or linking to the URL, without physically seeking out that information, and you wouldn't want to inadvertently cut off a bunch of people by changing the name. So, unlike me, be disciplined and put your keywords in your URL from the outset and save yourself a lot of lost opportunity and extra work.
Formatting a Post URL in WordPress
You can select the post name for your individual posts by selecting 'Post name' under the 'Permalinks' options in the dashboard 'Settings' as shown below: