Moulin Website Design – official new site
1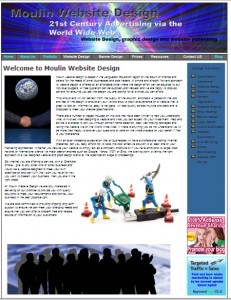 If you have been following this blog then you have probably been wondering where my updates have got to. Well there is a good reason why I have not been posting quite as much as normal; I have been busy beavering away on a new website for my website design business.
But you will be glad to hear that I am finished now and have gone live with the new design which you can find at Moulin Website Design.
So the good news is that I am free to get back to my blogging activities which include how to blog for money, how to make the most of the Google advice on offer and any new SEO secrets I learn as I go about promoting my various online activities, including how article submitting is helping my blogs get page rank.
One thing I can tell you for sure is that I am definitely starting to see the benefits of all my article submission efforts and have had a number of my blogs ranked, some as high as PR3, not bad for this blog on tomato growing, just check out this page rank and it was not the only one to go to PR3 either.
You may also have noticed that this blog has now gone to PR1; that may not seem too impressive until you consider just how competitive this subject is in the blogging world.
So what I would suggest you do is to take another look at my post on article submitting while I get my breath back and prepare to update my review on the article submitting software.
I also need to share with you a few little gems of information I found out about that old chestnut, the duplicate content penalty. Or should I say that old myth the duplicate content penalty, stay tuned for the update.