Search Engines Results Experiment – An Update
2
So how many times have you seen this, you make an initial attack on a keyword phrase, build some links using in context linking techniques, submit to a couple of social book marking sites and hey presto there you are on page 1 of the Google search engine results page. So that's it, job done and what was all the fuss about?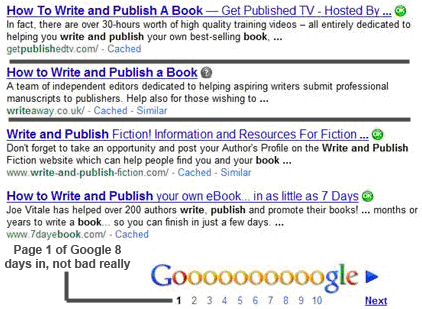 If only it was that easy, because what happens next is that you check again a few days later and you are nowhere to be seen. Some gurus tell you getting on page 1 of Google is easy and you can do it in hours using the right techniques. And yes they are right, but that is not what it is about, it is about getting prime position on the search engine results pages and then staying there, indefinitely.
.
This takes a lot longer and requires an ongoing and steady campaign utilising a range of different techniques combining both on page optimization and off page optimization.
There is no doubt that you must know what keywords or phrases you are targeting and that you must optimize your URL page for the terms(s) chosen. That is you get them into locations that give you the most bang for your buck, such as the URL itself and then then the title. After that you can include all or part of your chosen keywords throughout your headings, text and alt tags for graphics. This is what is called taking care of some of the aspects of on page optimization.
So what is off page optimization? In a word, the most important off page optimization activity is building back links, ideally back links that use anchor text to link to your URL page. There are a lot of ways to build back links many of which are described in this post on back linking strategies.
By the way, this is how you create a back link using anchor text in html:
The phrase 'Back Linking Strategies' is the anchor text and the '

So yes we saw a brief glimmer of an amazing success for a fairly competitive term and of course we know that this success can be repeated. But now we also know we have to put in the hard work and concentrate on the off page optimization, in other words get those links in place and in numbers. As a final word, it is worth noting that many of the sites that have displaced our experiment do contain either the complete keyword phrase selected in their URL or at least some of it. Pretty much tells it how it is, identifying the keyword phrase and building it into a domain name certainly helps the cause.