Site Flipping for Instant Cash
8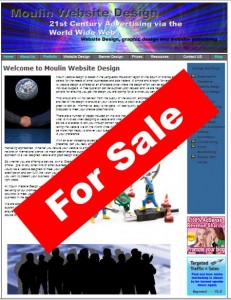 Guest Post by Rachel Moore
There are endless ways to make money online. You can do freelance work, build adsense websites, make money through email marketing; the list just goes on and on. I like to focus on affiliate marketing and adsense for the residual income that those methods can offer. But when I was first starting off I often found myself strapped for cash and needing some immediate income.
A mentor of mine, Justin Brooke, introduced me to site flipping. Site flipping is basically building websites and selling them, either as new startup sites, or once they are ranking and making some money. If you think that sounds a bit like house flipping just with websites instead, well, its not coincidental that they happen to sound the same 😉
There are a lot of ways you can go about site flipping, but I'll just tell you the way I did it on SitePoint.com a year ago. SitePoint has since changed to become Flippa.com, and the way their site works has changed a bit too, but the principles remain the same.
First thing: Do your research well.
There is nothing worse than working really hard to put a site together only to find that when you try to sell it, no one is interested. Make sure to look at the recent auctions that have ended in a sale to see what people are buying. You'll want to just look in the startup section. Look to see what niches are going over well, if people are buying sites with original content, PLR articles, or with a great design. See if the sites that are selling are static html sites or blogs.
What's hot will constantly be changing, so it's important to keep on top of the market's pulse. When I was doing this it was unique content WordPress blogs with beautiful, custom designs that were really selling.
I then started working on making my own designs. If you know a little css and Photoshop, or you're willing to learn, this doesn't have to be a big deal. I have never learned Photoshop professionally, but if you do a quick Google search for whatever technique you want to use, you can find a great Photoshop tutorial that will walk you through step by step.
I also found a theme to work with. You can take just about any WordPress theme and make it totally unique by changing the images and the colors in the css files. And if you always use the same theme, you'll be able to make all of the changes with your eyes closed (ok, you'll actually have to keep them open and use find and replace) in just a few minutes.
For the first site that I built like this, I wrote my own articles. But that took me forever, and after I sold the site for $397 I realized that it just wasn't worth it for me to keep doing the writing. I found a writer on elance.com to write the articles for me for around $3 a piece. My sites all sold for between $217 and $397.
Once you've figured out what sells, it's just rinse and repeat. At least until the market changes. The one thing that you really have to do is be on top of it, and if you change with the market, you can keep it going.
For me, website flipping was great as I was able to make a significant amount of money in a rather short period of time. But as I said, I prefer to focus on affiliate marketing as it provides residual income. I learned about affiliate marketing at Wealthy Affiliates, a program that I discuss in detail at my Wealthy Affiliate review.
Related Blogs
What Is Affiliate Marketing and Is It For Me | Uncategorized
How To Make Money In Affiliate Marketing « Coming Beyond Imagination
Ways To Make Money Online Without Going Broke | Underground Journal
Auto Niches Blogs Video Tutorials Series – Auto Blogging Made Easy.
Four ways to make money online right – the truth tried and true ideas | bni-citywest.com