That is a big question for many people starting a small business that relates to whether it is worth setting yourself up as an Amazon seller versus the costs involved and all the time and effort that needs to be put in to make any sales.
There are two key factors to consider when making a decision and these are:
when anyone goes to the Amazon site it is nearly always because they are looking to make a purchase.
 Amazon is one of the biggest on-line retailers in the world and bring  with them a very high level of confidence that the a purchaser will not have their on-line details stolen or misused and that if they encounter a problem they will be able to get something done about it.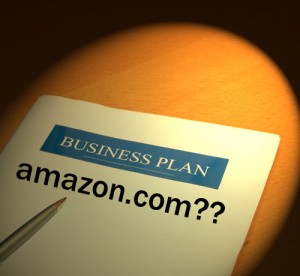 In a word, people trust Amazon as a supplier of value for money products, they trust them when it comes to handling their financial information and that they will also get a decent after sales service should something go wrong with the product. These are 3 major hurdles that need to overcome when setting up an online business.
Getting to that situation through your own blog or website can take an awful lot of time and effort. Also you only have to make one or two mistakes and all the hard work can be lost. What it comes down to is how big your aspirations are, if you are simply seeking to generate an ongoing monthly income to either supplement or replace your current method of earning money, then setting yourself up as an Amazon seller or affiliate may be a very good option. You can piggy back off the good name of Amazon and sell your products in their store. The price you pay for that of course is the commission they take from each sale and for the services they supply which you have to pay for.
If on the other hand you think you have what it takes to establish a trusted and reliable service under your own company name and brand with all that entails, then of course you can take all the potential profit from the product and not have to share that profit with Amazon or any of the other big time retailers on the Internet.
Selling on Amazon
There is very little you cannot sell on Amazon and the details for how to get started and what the options are can be found here: http://services.amazon.co.uk/services/sell-on-amazon/how-it-works/?ld=AZUKSOAFooter
Before you get started however there are a few things to consider:
Not all products sell well so spend some time identifying things people actually want in reasonable quantities
Look at product reviews to ensure the product you want to sell is at least considered to be good quality and value for money (where it is already listed that is)
Sit down and work out all the costs involved and how much profit you can actually make based on a realistic selling price
If you are creating a new listing (you need to be a Pro Merchant for this), figure out the best category for your item, one where people actually go to find the product
Identify the keywords that best describe the product and build them into the title and description of the product
Always ensure you have a professional image of the product you are selling
Consider giving some of the products away in return for reviews that are an honest and accurate appraisal of the product
These are just a few of the things you will need to do to become a successful Amazon seller. Something else to bear in mind is that you need a bank account in the relevant currency of the site you are selling on for payments to be made seamlessly and easily. That can be dollars, British pounds or Euros. There are some countries where arrangements can be made, under certain circumstances, for international transfers.
For anyone
publishing Kindle books
, who live outside the US but are selling on the US site, you will be paid in dollar cheques and if you do not have an ITIN (international tax identification number) there will be a 30% tax withholding on any payments made. So well worth sorting that out as soon as you can.
Some Useful Help Pages for Amazon