Antivirus Software Programs Versus Antispam
20
Knowing the Difference Between AntiSpam Software and AntiVirus Software Programs
To clear up any confusion that exists between what are antispam and  antivirus software programs, you firstly need to know the difference between spam and a virus. Not too much to worry about there as it is relatively easy to explain.
What is Spam first
Spam consists mainly of email delivered to you at your email address that was neither requested or solicited and is often and mostly on topics you have absolutely no interest in. It is a cold calling marketing technique for the Internet and many unscrupulous businesses will scour the Internet looking for email addresses wherever they can find them, firing out an automatic email which can end up in your inbox in the vain hope that they will gain your interest.
Another form of spam is the chain mail emails you get that encourage you to send out multiple emails to your friends on the basis you might get bad luck if you don't forward then, receive some sort of reward or when you have been duped into thinking you are doing your friends a favor.
The worst kind of spam in my opinion is the malicious kind where people are actually trying to defraud you in some way, Nigeria is famous for being a source of the too good to be true financial offer which is typical of this type of email scam and often comes with the name Mr David as the source. Although most people are well aware of this particular scam now.
Another form of email spam is known as 'Phishing' and phishing emails are basically trying to deceive you or trick you into providing personal details about yourself or perhaps trying to access financial information. This is so that the perpetrators can use any information they gain to defraud you. In these cases they are normally pretending to be a bank or financial institution and they use a scare tactic to try and get you to enter your sign in details via a link they provide you with. An easy way to avoid being caught by many of these attempts to defraud is to simply not use the links provided. Or if you prefer you can use a program like Rapport, trusted by banks and designed to prevent phishing attacks.
There are other forms of spam but these are the main core of what most people consider to be spam. So now consider whether the spammers of the world are winning the battle, when you find that statistically more than 50% of email traffic fits into the spam category and is forecast to take an even bigger percentage then you could not be blamed for believing that they are.
This leads me to believe that both as organisations and individuals we need to take steps to protect ourselves from the unsolicited garbage that arrives in our in boxes, exactly how we can do that I will be discussing after an explanation of what viruses are.
What are Viruses
So what is a computer virus exactly, the items that come under the general heading of a virus fall into 3 main categories:
 An actual virus
A Trojan
Computer Worms
Viruses are software programs that are sent to your PC with the sole intention of damaging either your PC or the network you are operating on. They are purely malicious and often it is difficult to fathom what inspires the people who put out such programs or to understand their motivation, from what I can see of things they really do not benefit by their actions in any way, they are just out to destroy and disrupt the activities of other users of the Internet.
A computer 'trojan' on the other hand is one form of program that may benefit them when they manage to install it on your PC. On the face of it a Trojan provides what seems to be a beneficial service to you but behind the scenes it is accessing unauthorised parts of your system and recording information that could be used by a hacker to gain access to personal information such as bank account details and passwords as examples.
Computer worms are another form of malicious software and what a worm does is quite simply to reproduce itself by sending copies of itself to other computers on the same network. They effectively clog up the system you are using by consuming large quantities of bandwidth that should be available for genuine communication.
Whichever form of virus you encounter, you can be sure that they are undesirable and unwanted on your PC or network, they are in one way or another going to cause you problems.
Something else worth noting is that often banks will not guarantee your account if you are accessing their system with a PC that is not properly protected with one of the recognized antivirus software programs i.e. if someone accesses your account or worse manages to take money from your account and you do not have suitable protective software in place the bank will deem you liable for your own loss. Something you should check in your terms and conditions, especially if you are involved in on line banking.
What Can You Do to Protect Yourself?
So having now found out about the horror of malicious software I am sure that you would like to know how you can avoid falling foul of the people that perpetuate these programs and are intent on causing your PC or network harm by installing one of the suitable antivirus software programs for your security .
There is free anti-virus software available if you want it and some of it is reported to be very good and very reliable. Personally I have never tried any of the free versions other than when I was given it as part of my university studies which was a little while ago now so I don't think it would be fair to include it an anti virus software review.
What I am going to do however is discuss the anti-virus software programs I have used recently:
McAfee Anti-Virus – has been my preferred anti-virus software choice and it came as standard with:
Anti-virus
Anti-spyware
Firewall protection
Web Safety Ratings
My perspective of this software is that it is relatively unobtrusive, all software programs that protect your computer as a matter of course have to download new versions on a regular basis and this as you will find if you have never used one is pretty much a daily basis. This normally happens as soon as you switch your PC on in the morning. I found with McAfee that until it had finished downloading and updating that my PC would run very slowly and I was almost better finding something else to do until it was done. This also applied to a lesser extent with respect to the weekly scan that I carried out that checked out the whole installed system.
There are scheduling options for the weekly scan to a time when you are not using your PC, e.g. at night, and you can switch off automatic updates for your daily updates, but that I feel would be unwise.
That aside I found the software to be really effective and whether I have been lucky or simply unaware, I have never had any malicious software make it past McAfee over the quite considerable time I have used it. I also really like the site checker option that you could use to look at a site for potential threats to your PC safety which gave you a report on whether a site had been involved in any malpractices.
So why did I change, well when it came to renewal I asked them what discounts were available as I had been able to get the software for 1/2 the price the previous year compared to the renewal cost, at that point they offered me an additional 10% discount which was no where close to the previous year.
Consequently I started looking for alternatives, ironically when my renewal was actually due within a day or two the offer was suddenly improved to 1/2 price again much the same as the previous year, unfortunately they were too late.
So would I buy McAfee again, answer yes at the right price and if they were competitive, had they made me their final offer sooner I would have probably still been with them.
Norton Anti-Virus – this is the software I currently operate with on my PC and it comes with:
Antivirus
Antispyware
Advanced Protection
This is effectively the equivalent product to the McAfee Viruscan Plus, providing the same level of protection. In contrast to McAfee I hardly notice that it is running, even when it is downloading there is no significant difference in the performance of my PC and it uses smart software to register periods of inactivity and carries out scans which it evokes automatically when my PC is on but does not appear to be being used, that's a nice feature.
What will an Anti-Virus Software Do For You
Something like Norton Anti-Virus software will ensure you don't get ripped off on the Internet, you can share, shop, surf the net, manage your finances, and socialize on-line without the risk of downloading threats or having your identity and passwords stolen.

It can automatically performs a backup up your files discreetly, which means you don't have to remember to do it and the process doesn't get in your way.It also ensures your PC continues to run quickly and problem free using the tuning and clean up facility.
It runs in the background without affecting what you are doing by getting in your way.
Norton also gives you the ability to manage the program through the cloud putting you in full control, consequently simplifying how you protect your various devices.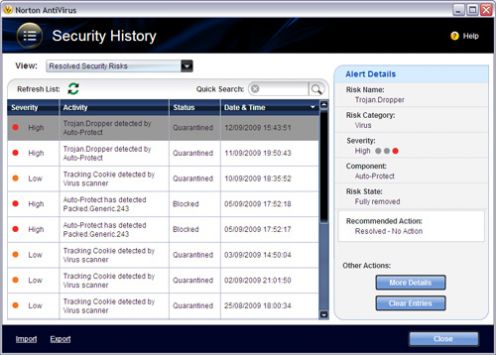 I have been running Norton Antivirus for few years now and as with McAfee I have not had any malicious software get past the defenses, although I have had reports of attempts.
Norton
also now offer a site checker functionality and with respect to obtrusiveness I would put Norton easily ahead of McAfee. With respect to price and in order to get a similar deal to my previous one with McAfee I had to commit to 2 years, but I did get a PC health check thrown in and to date I do not regret my decision to change.
On balance for the way I use my PC, Norton takes top place but McAfee is a very close 2nd and for people who use their PC's differently to me i.e. who are not on it all the time McAfee is going to be just as good. So in the end I guess it now comes down to price. Either program does a great job of what it was designed to do, preventing malicious software gaining access to your PC and network.
Another alternative is the Kaspersky
Anti-Virus program.
Kaspersky offers many of the same features as Norton 360 but is often considerably cheaper. So I guess you can pay your money and make your choice. The main difference looks like the absence of a file back-up function. But Kaspersky does mention a malware roll-back facility which might just be worth it's weight in gold.
Best Anti-Spam Software
To be honest I have never been able to put up with the anti-spam software I have used previously and have either disabled it and more recently not bothered to buy it in the first place. Both McAfee and Norton offer anti-spam products and based on their anti-virus software I am sure they would be reliable products.
However I find that most of the email servers provide a level of anti-spam protection which for me is adequate to meet my needs. I follow basic rules of not opening email from an unknown source or that have executable files attached unless I was expecting them or really trust the source and the email does in fact look genuine .
Also spam gets filtered out and put into a folder that you have to check to see if it is really spam or not, so you end up looking at those emails anyway. There is also a function in Outlook which I use that allows me in the junk email function to block messages from a given source. So all in all I felt I had enough options to deal with spam beyond a specialised package, so would not invest in anti-spam software personally.
The choice is of course up to the individual and the level of risk you are prepared to take or administration you are prepared to put up with.
So I am afraid the best anti-spam software for me is no anti-spam software or free anti-spam software.
That said I have recently started to use Spam Fighter and have found it to be very unobtrusive and easy to use, it works within Outlook as opposed to an external program.
The premise on which it works is that it registers all the blocked spam that its users have physically tagged as spam and removes it from your inbox to a separate folder. You can of course unblock anything anyone else has called spam if you don't consider it spam and, visa-versa, you can block emails that you think are spam that haven't already been picked up. It is just a marked step up from using your junk email option in Outlook in that it pulls a lot of spam for you that has been labelled by other subscribers and then you don't have to do it manually. Other than a cursory look to check auntie Gladys hasn't inadvertently been labelled a spammer.
Since I have been using it the emails marked as spam and separated out have been pretty accurate, the ones I have unblocked from their master listing have been few and far between and they are always of a public nature and have never been personal email from friends or associates. So all in all a pretty good free package, which you can upgrade to a paid version if you really want to.
In Conclusion
Of the available antivirus software programs, my personal preference and recommendation is the Norton Antivirus package.
With respect to spam I really have come to like having Spam Fighter loaded on my PC, but then I do run Outlook and Spam Fighter becomes an integral part of that program, when loaded, and the basic program is free. Other than that, the antivirus software programs described do provide a level of spam protection as well, which the vast majority of people will find perfectly adequate.