How to Use Twitter – the Basics
5
Using Twitter should not be a challenge to anyone that knows even the most basic elements of finding their way around a computer. It is a web page based social media site that is accessed via your Internet browser and it doesn't matter which browser you use to access it. It could be IE, Chrome, Safari Opera or any of the others you like to use.
So just open your browser of choice and enter http://www.twitter.com/ in the URL address box and press return. You will be presented with a sign on page for Twitter and all you need to do is put in the user name you want to use on Twitter with a working email address and a password.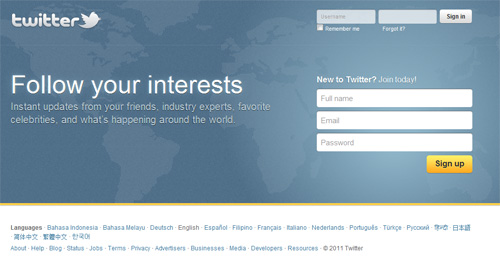 Click on 'Sign Up', if there is a problem e.g. your name has already been allocated the program will tell you and you will have to change it to something else. If all is OK the program will tell you that as well.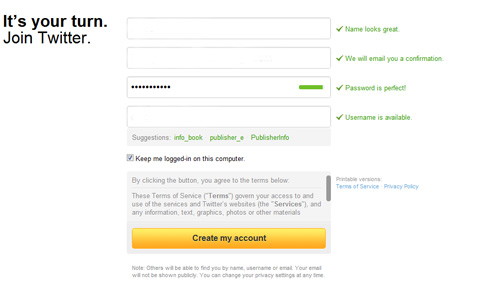 When you have all green ticks you click on 'Create my Account'. After you have done this Twitter will give you some 'Follow' options. If you like the idea of following their selections you can click on the 'Follow' button and you will then be following the person you selected and will see their Tweets in your 'Timeline' screen when you get to it. At this point Twitter will send you an email asking you to confirm your account details.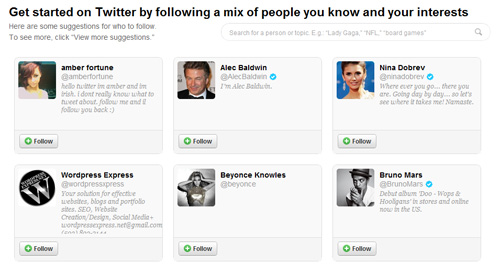 When you are ready you can change your account settings by clicking on the down arrow at the top right and then settings. This will take you to your settings page where you can set your account up including who sees your Tweets. Without going into all the detail you can visit each tab in turn and adjust the settings to suit your requirements. Two other tabs to pay attention to besides 'account', are the 'Notifications' and the 'Profile' tabs. Notifications is where you can control when and why you will receive email notifications from Twitter and in the 'Profile' tab you can tell people all about who you are, what you do, add your website/blog URL and upload a custom image for your account. That's quite important, people don't like the Twitter default avatar so it's much better to put your photo there.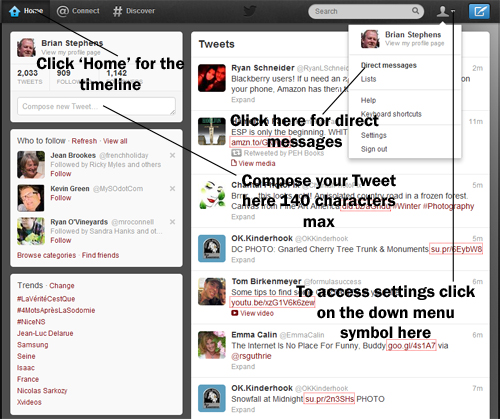 The 'Design' tab allows you to customize your Twitter page or upload your own background image. Quite nice if you want to stand out from the crowd. Once you have done all that and are happy with it, you can go to your 'Timeline' by clicking on '.Home' This is probably a good time to confirm your account details with Twitter via the email they sent you, if you haven't already.
So now you are ready to start Tweeting. Put a message into the 'Compose new tweet'  by clicking inside the box, then when you are done click on 'Tweet', remember you have a maximum 140 characters only and if you want to include an image or location use the appropriate symbol just underneath the text box. Your message will go out and be seen on your 'Timeline' and the 'Timeline' of anyone who is following you. It can also be seen by anyone who follows you in the future (if they look at your Tweets). Exactly who can see your Tweets depends on how you set up your account under settings.
The other tabs on your 'Home' page are @Connect which is where you will find either the people you are interacting with (Interactions) or a list of who has mentioned you (Mentions), just select which list you want to see from the menu. Mentions contain a list of all Tweets that include your user name.
The other tab is #Discover  there are several menu options to choose from:
Stories – these are the stories on Twitter that, given your interests, Twitter think you might like to see
Activity –  these are the things your friends are getting up to, who they are retweeting, following etc.
Find Friends –  this where you can enter a friends name to try and find them so you can follow them
Browse categories –  this where you go to browse a specific topic
Lists contain the tweets of the categories you have saved in lists you have created. So if you have a list called ebook publishing you can select that list and display all the Tweets of the people you saved in that list category (adding people to a list is an option you can take when you follow them, you create a list under which to categorize them or add them to a list you created earlier).
For suggestions on who to follow you can click on the 'Who to Follow' menu on the main navigation bar and if you want to send a tweet to another Tweeter you can click on their user name, go to their full profile and tweet them using the message box provided. The 'Profile' menu option shows you what other Tweeters see when they visit your profile. Very important to get this particular message right if you are trying to do business through Twitter.
To send a personal message i.e. one that is only shared between you and another user, go to the drop down symbol, top right next to the head image and click that. You will see an option called 'Direct messages' this will give you a list of messages received and a further option to create a new message that looks a little like an email form.
Those are the basics and I hope it helps if you are new to Tweeting, there can't be many of you left but there will be some 🙂 and if you would like to know more about the SOCIAL MEDIA phenomenon and how it works for marketing then use this link.