Search Engine Results – More News
6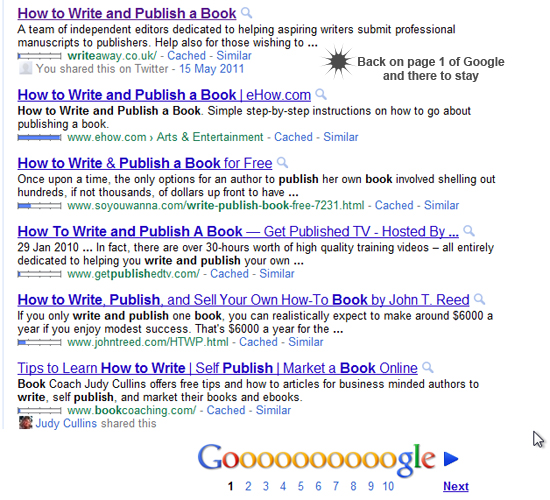 I have been reporting on a little experiment being done to establish exactly how you can promote a URL page to get a position on the first page of Google search engine results page. This is post the Panda update and involves 'white hat' techniques only. No skulduggery, article spinning software or trying to pull the wool over Google's eyes.
As you can see the URL for www.writeaway.co.uk is positioned well up on the first page of the Google search results. This time, with an ongoing campaign supporting it, there is no reason to believe that it will not stay in position. In fact the most likely reason for it being displaced would be if there was a competitor attempting to remove it by doing more of the same thing than this campaign is doing.
In a previous update 'on page optimization' was discussed i.e. finding and placing the correct keyword phrases in the right locations on the page to a density deemed to be acceptable and couldn't be misconstrued as 'keyword stuffing'. The site went straight to page one of Google search results but then dropped back. The reason for that is because the 'off page optimization', although started, was not in full flow. In other words there were very few external domains linking to the page for the adopted key word phrase.
That to an extent has now been taken care of, and there are a number of external sites linking to the page for the required keyword phrase. Plus they are using in context 'anchor text' from within articles covering the same subject and with quality content that has been written as unique original articles.
Two of the host sites for the articles are Squidoo a free article posting platform, and HubPages a competitor for Squidoo.
Articles posted via these free platforms provide a percentage (not all) of the source of in context links that are designed to promote the Writeaway page and identify to Google what the site is about. Hence the 'in context' statement, in context meaning a clear and unambiguous pointer to the subject matter of the website page that also happens to be the selected keyword phrase. Hopefully you are not missing the point that the selected keywords do need to represent what the site is about and should bring people interested in the topic to the site.
What has been demonstrated in the search engine results experiment so far is that by combining 'on page optimization' with 'off page optimization' you can, even for competitive keyword phrases, get a position on the first page of the search engine results using the 'white hat' techniques previously mentioned and discussed in great detail throughout this blog.