Creating a WordPress Blog – The Basics of Blogging
16
A Free eBook for Anyone Who Wants to Create Their Own WordPress Blog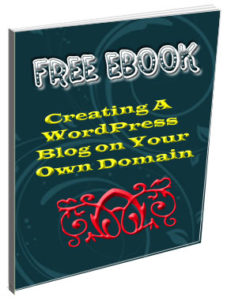 In the world of blogging it can often be assumed that people will be able to intuitively go about creating their first blog without any specific instructions on exactly how to do that. This is, or can be, a bit daunting, especially if you want to host your blog on your own domain in a specific format.
First of all where do you actually register a domain name and then how do you go about getting that domain hosted so the content in it can be published on the Internet.
You also need to decide what blogging platform to use.
If you have followed my posts you will have picked up on the fact that I am a strong advocate of hosting your own independent blogs in the WordPress format. But what I have come to understand is that a lot of people really do not know how to go about doing that. For this reason I have created an eBook that explains the process of creating a WordPress blog from the start to the finish. It also includes information how to get your blog published using your own domain name.
The focus of the eBook is about the physicality of getting the blog to the point of being published and from where you can start posting your articles. It covers on route some suggestions for the general settings you might like to apply, how to find and load a theme you like and some of the best plugins for a blogger, best free plugins that is.
A common question is also answered with respect to the setting called Permalink. WordPress defaults to a numbering system for blog posts and to change it, all that is required is that you put a little bit of simple code into the form box for Permalink, WordPress then displays the post title instead of the numbering sequence.
I hope you find this WordPress eBook useful and if you do then please share the book with friends and colleagues so that they to can take advantage of the information.
You can click on the image above or on this Free eBook link for a pdf
Don't forget to subscribe on the right for further updates and advice on blogging and working from home.